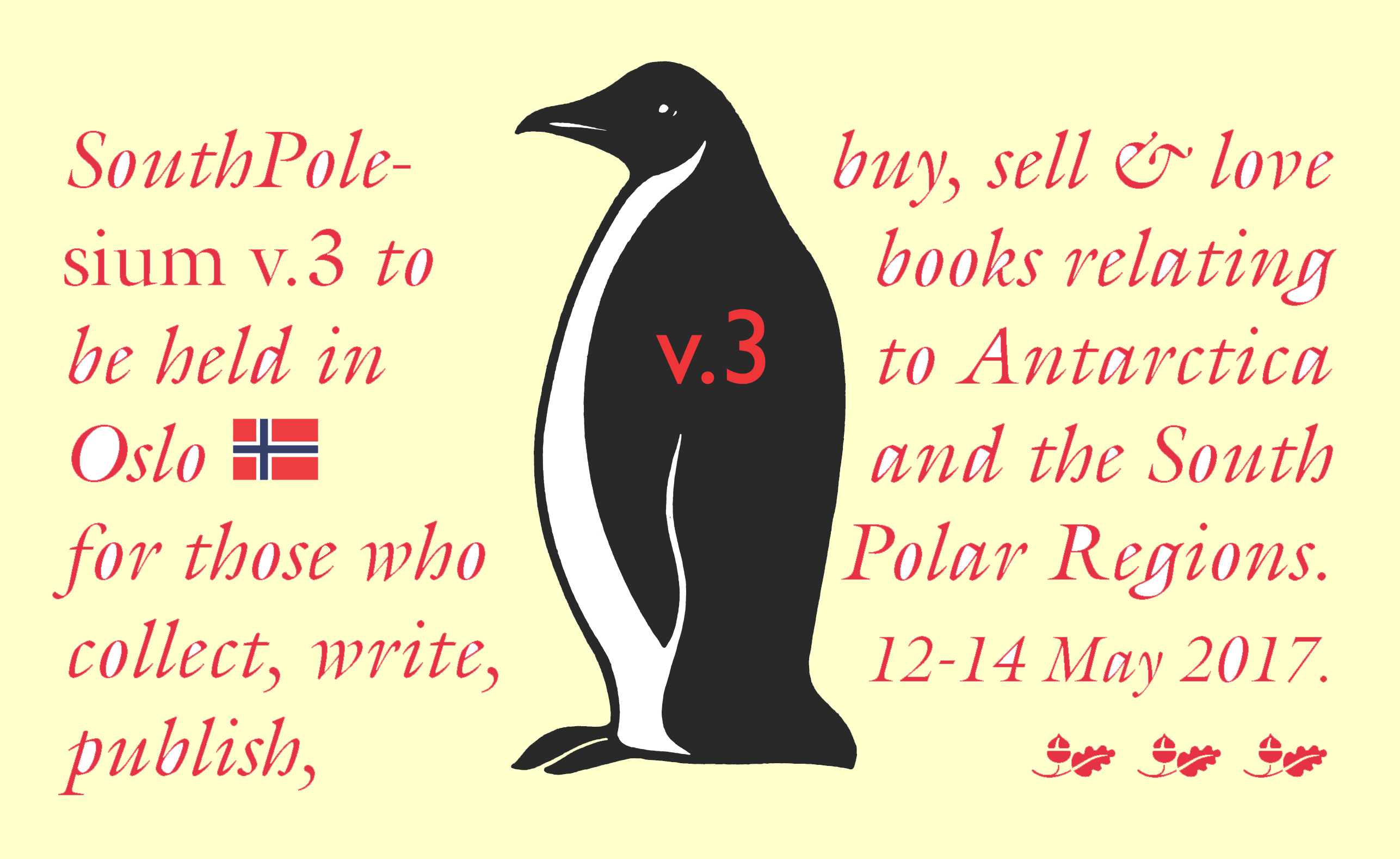 Sponsors: The Antarctic Circle and The Fram Museum
Co-Sponsors:
---

Launched: 1 April 2016. Last updated: 7 May 2017 Accessed at least
times since 1 April 2016. Contact: Robert Stephenson, Coordinator, The Antarctic Circle.
Library Tel: 603-532-POLE (7653).
Home Tel: 603-532-6066.
Mobile Tel in Norway (active during and just before the SouthPole-sium): +47 92 28 82 56
E-mail: antarctic-circle@comcast.net
Alternative E-mail: rob@rs41.org
Download a summary card.
Yes, against our better judgment, we're now on Facebook (although not very actively).
---
REGISTRATION NOW CLOSED
Home
Principles of the SouthPole-sium
Schedule/Agenda
Registration information and Form
Those who have registered
Those who are planning to attend, have expressed interest in doing so or are unable to
Subjects of talks proposed to be presented so far
Subject ideas for talks that might be presented
Oslo & Norway
Fram Museum & Norwegian Maritime Museum, our venues
Accommodation options
Optional Excursion to Uranienborg
Optional Excursion to Horten, Tønsberg, Sandefjord and Larvik
Optional Excursions: Oslo-Bergen via Finse and Coastal Cruise: Bergen to Tromsø
Auction
Contests
Updates & E-mails
Blog/Comments

---
DETAILS
When: Friday - Sunday, 12-14 May 2017. (Optional excursions on Friday and Monday.) Where: Oslo, Norway. Organizers/Sponsors: The Antarctic Circle (Robert Stephenson, Coordinator) and The Fram Museum (Geir Kløver, Director).
We are working closely with the Norwegian Maritime Museum, adjacent to the Fram Museum. Daytime sessions and the breaks & lunches will be held there.
We welcome co-sponsors (individuals, organizations, businesses). Their donations will allow the SouthPole-sium break even! Contact antarctic-circle@comcast.net if you are interested in helping out. Inspiration: The annual (October) Shackleton Autumn School in Athy, Ireland. (Inspiration but not duplication. See www.antarctic-circle.org/athy.htm) And, of course, the first SouthPole-sium held 15-17 June 2012 in Jaffrey, New Hampshire (see www.antarctic-circle.org/gathering.htm) and the second SouthPole-sium held 1-4 May 2015 in Craobh Haven, Scotland (see www.antarctic-circle.org/gathering2.htm). Subject Focus: In approximately descending order: Books, Bookcollecting, Bibliography, Writing & Publishing, Expedition publications, Diaries & Journals, in addition to related subjects within the areas of history, art, photography, poetry, music.
95% Antarctic (pressure from bi-polar bibliophiles has led to the insertion of a minuscule window for Arcticana, preferably tied-in somehow with the Antarctic).
To see some comments on the early planning of the SouthPole-sium, click here. Non-focus: Science, political issues, Arctic (except as above). Concept: The SouthPole-sium is being organized as an informal and enjoyable opportunity for those interested or involved in the Subject Focus (see above) to come together, meet one another, trade ideas and pursue common interests. In other words, the SouthPole-sium will be something of an extended "bull session," social hour, and networking opportunity. Approach: All attendees will be encouraged to participate, either by giving short (15 minute) presentations on their subject(s) of interest or by actively participating in the discussions or by generally helping out in the running of the event. Although a bit unstructured this seemed to work well in Jaffrey and Craobh Haven. Any attendee reading a paper may be sent packing!
Those wishing to make presentations should contact the Coordinator. This time around we will ask several attendees to organize ahead of time some talks around some common subject thread and to moderate the resulting sessions (see below 'Volunteer Opportunities'). Venues: The main venue will be the Fram Museum. But we will hold day-time sessions at the Norwegian Maritime Museum which is literally a stone's throw away. Likely Attendees: Bookcollectors, booksellers, librarians, archivists, writers & publishers, historians. Amateurs more than academics. Attendance will be limited to 90.
To see the names of those who have said they're coming or who have expressed interest (or not), click here. Cost: The cost of Registration for one person is NOK 2,370. (This is ca. $274/£226/€259). This will cover various administrative costs, a Registraton packet including a Keepsake, coffee/tea breaks, Friday and Saturday receptions, Saturday and Sunday lunches and a Saturday night banquet aboard the Fram. Companions/spouses only interested in the social and evening events will be able to register at a lower rate (NOK 1,500). Not included in the registration are accommodation and the optional excursions.
(One of the principles of the SouthPole-sium is that everyone attending pays the registration and no one attending gets paid to do so.) Two exceptions were made at the first SouthPole-sium to persons who contributed much in kind. One person fell into this category in Scotland in return for services rendered.
Cancellation: In the past, full refunds were given up to a week before the start of the SouthPole-sium and partial refunds after that. The same will hold true this time.
No sponsorships, grants, donations, etc., were solicited for the first SouthPole-sium. Several co-sponsors came forward in Scotland, some in the sense of having to cancel but not asking to have their registration fees returned. Co-sponsors are welcomed and are are invited to donate the equivalent of $100 or more. Currency Conversion: The costs associatged with the SouthPole-sium are stated in Norwegian Kroner (NOK). If you are not paying in Kroner you should make certain that your payment equals the NOK amount. As of April 9, the NOK 2,370 Registration fee equals: $273.89; £226.33; €258.44, rounded off respectively to $274, £226 and €259.
The NOK 650 fee for the Optional Excursions equals approximately: $75; £61; €71. These rates will, of course, change frequently although probably not by a significant amount. Please use whatever rate you find on the Internet on the day of your Registration. They should be rounded off to whole amounts, i.e. $78.94 = $79. Registration: Registration commenced on January 31, 2017. In both earlier SouthPole-siums the maximum number was set at 100. In neither instance did we approach that number (Jaffrey, 56; Craobh Haven 63). This time around we are limiting the total number to 90 because of the room sizes at the Fram Museum and the adjacent Norwegian Maritime Museum. Registration will be on a 'first come, first served' basis. If you're not on the list, and the number reaches the maximum, you'll probably be out-of-luck.

• Registration fees may be paid by US dollar and Sterling checks. Direct deposits in pounds may be made to a Royal Bank of Scotland account. Those resident in Norway will be able to pay in one or more ways directly through the Fram Museum. One can also use PayPal. Information on these options are included on the Registration Form.

• Registration information and Form. • To see who has registered, click here. • REGISTRATION IS NOW CLOSED Registration Packet: Each attendee will receive a packet to include an agenda/schedule, a list of expected attendees with contact details (for those who wish to make them known), a name badge, one or more specially produced keepsakes and any catalogues, papers, etc., that attendees might wish to make available beforehand. (There will also be a table or two provided for those who would like to bring, display and distribute handouts.) Expected numbers: A minimum of 40, and up to but not exceeding 90. The smaller the number, the easier it will be to have meaningful discussions with a maximum involvement on the part of the participants. This will also simplify logistics, meals, etc. The preliminary budget with a contingency suggests that 50 attendees represents the break-even point and the goal is to break even. The organizers/sponsors will not profit from this. Honoraria, etc.: None. Registration, transportation and accommodation will be paid for by all participants. The only exception in Scotland was that one attendee who had the registration waived in return for services rendered. Group Photograph: At some point during the weekend we'll set up a group photograph which will be placed on the website and will be downloadable. Also, it would be nice to have someone who is willing to take photographs throughout the SouthPole-sium. These will be place on the website as well. Any volunteer photographers? (In Scotland, Cathy Cooper did a great job!) Good News! Cathy has agreed to be our Official Photographer in Oslo. Volunteer Opportunities: Organizing and managing the SouthPole-sium is a largely volunteer undertaking. It will be pretty much under control up to the point that it actually happens. That's when some volunteer help will be very much appreciated. Among the tasks:
• For anyone arriving on Friday morning or earlier: a variety of setting-up tasks. • Registration and greeting attendees (Friday afternoon, Saturday morning.) • Audio-visual (help on computers and computer projectors). • Organizing and Moderating a multi-presenter session. • Photography (as indicated above). Good News! Cathy Cooper has agreed to be our Official Photographer in Oslo. • Videography. Tom Henderson did a great job putting together a video of the first SouthPole-sium. Any volunteers to at least take the video? Editing can always be done by others. • Keeping an eye on the Book Room where things will be for sale. • Auctioneer and Assistant Auctioneer (to keep track of the lots and collect the money) We expect to hold an auction sometime on Saturday. This will depend on attendees and organizations donating books, Antarctic related items and ephemera. The Auction in Scotland was a highlight of the Saturday night banquet. • Quizmaster (present the answers and the prizes). In the event a quiz is prepared. (This was another highlight of the Scottish banquet.) • After Dinner Speakers. Bob Burton gave a great one in Scotland. • Music. Will we have any musicians amongst us?
Schedule: (This is preliminary and subject to changes, additions and deletions.)
You can also see this by clicking here.
FRIDAY Optional all-day bus excursion to the National Library, Ski Museum and Uranienborg, Amundsen's house. We will start off at 9:30am with a visit to the National Library of Norway to view some of the Antarctic material in its collections. Library staff will make a presentation on the Library's polar holdings. (All attendees are invited to this without charge, not just those on the optional excursion.) Lunch will be included at Frognerseteren, a traditional restaurant overlooking Oslo. After lunch there will be a stop at the Ski Museum at nearby Holmenkollen. Price for the excursion will be NOK 650 per person which is approximately US$75, £58, €70.
SouthPole-sium Registration. From 5pm or so onward.
Opening reception of the SouthPole-sium in the Gjøa Building at 7pm.
Antarctic film shown in the Auditorium, Gjøa Building at 8pm. Either an Amundsen film or something not too heavy and a little wacky! The reception will continue outside the Cinema for those who wish. SATURDAY (13 May 2017. Daytime events in the adjacent Norwegian Maritime Museum)
9:30 (necessitated by the bus and ferry timetable). Welcome by the sponsors. Housekeeping items. Roundtable: Attendees introduce themselves and their interests extensively (throughout morning).
Noon. Book launches starting with Brad Borkan and David Hirzel.
12:30 Lunch.
Group photo by the Polar Party statues, weather permitting.
1:30 - 5:00 Afternoon. Expanded talk (up to 40 minutes) on Norway in the Antarctic by Geir Kløver, Director of the Fram Museum. Followed by short presentations (up to 15 minutes) through the end of the day, possibly some moderated discussions.
2:00. Deadline for Contest submissions.
5:00 Adjournment.
7:00 Reception in the Gjøa Building, followed by the Banquet on the deck of the Fram. The Master of Ceremonies at the Banquet and following will be Rick Dehmel. (He did a great job in Scotland.)
Short after-dinner talk(s) and a polar auction. If not on the deck of the Fram then in the Gjøa Building. SUNDAY (14 May 2017. Daytime events in the adjacent Norwegian Maritime Museum)
9:30 Continuation of Saturday's short presentations and possibly some moderated discussions. Book launch(es).
12:30 SouthPole-sium concludes.
12:30 Lunch.
Afternoon. Continuation of sessions or perhaps the showing of several Polar films.
Diehard Dinner. For those still around, come along to the Olympen, an unusual and highly relaxing restaurant in Grønland. It's known for its extensive collection of beers. Those who are interested can gather there at 7pm or so, order off the menu and pay on their own. They have a large somewhat private alcove in the back that we might try to book if there's sufficient interest. MONDAY (15 May 2017)
Optional all-day bus excursion to Horten, Tønsberg, Sandefjord and Larvik. These town have important connections to Antarctic whaling, exploration and C.A. Larsen. Lunch will be included at the Atlantic Hotel. Price for the excursion will be NOK 650 per person which is approximately US$75, £58, €70. MOVIES
We have at least four movies we'd like to show sometime during the SouthPole-sium. Two are serious and two are strictly for entertainment (and may not even succeed in that).
On Friday night as the Reception winds down, probably around 8 or 8:30 we'd like to show in the Cinema one of the wacky ones. It's up to you to decide. The first option is Quick Before it Melts (1964). This has to be one of the worst movies ever made. What saves it for us is it purportedly takes place in the Antarctic. It stars Robert Morse ('How to Succeed in Business without Trying') and George Maharis (remember the TV series 'Route 66?') Actually Amundsen, Scott and Shackleton get a mention. You can see a trailer at http://www.tcm.com/mediaroom/video/278371/Quick-Before-It-Melts-Original-Trailer-.html

The second option is South of Sanity (2012). What's interesting about this is that it is the first feature length fictional film shot entirely on location in Antarctica at "Routledge Research Station" (UK's Rothera Station). And the actors are all BAS overwinterers! A caution: "Contains strong gory violence" (such as death by ice ax and electric drill!). Apparently the "crew used a children's face painting kit for makeup and utilized food coloring and syrup for fake blood." The trailer is at https://www.youtube.com/watch?v=So3cFrApCGE

We'll see one Friday night and the other at another time or not at all.

The more serious ones include a restored film on Byrd's Second Antarctic Expedition that Laura Kissel, the Polar Archivist at The Ohio State University, is bringing along, and a preview version of Tom Henderson's film on American Antarctic aviation, "Ice Eagles." See the trailer at a https://www.youtube.com/watch?v=HZa1R4YTUFk

Here's what Laura says about the film: "Culled from ten reels of 35mm film found in the papers of Admiral Richard E. Byrd and recently preserved by the National Film Preservation Foundation, Byrd 1933 is a glorious cinematic record of the famed explorer's expeditions in 1928-30 and 1933-35. This unprecedented visual diary, shot by Paramount Studios cameramen, was largely a silent film with some short studio recreations. Through extensive archival research in Byrd's own papers, filmmaker Pamela I. Theodotou has painstakingly cataloged film clips using the scripts for Byrd's lectures, crafting a film that captures the expedition as a whole. Byrd's own voice and the environmental and animal sounds of Antarctica originally recorded by scientists on the expedition can be heard in the film thanks to audio found in and adapted from Ohio State's Byrd Papers archive."
You can see a trailer at https://vimeo.com/106352841
Optional Excursions: Three optional excursions are planned and will incur additional costs.
The first excursion will be on Friday 12 May by chartered coach to Uranienborg, Amundsen's house at Svartskog, which is now a museum. We will enjoy lunch at the Frognerseteren after which we will make a stop at the Ski Museum. The bus then will continue on to the National Library of Norway where we will enjoy a presentation on its Polar holdings. The number on this outing will be limited to the maximum capacity of the coach, 67. The cost of this excursion, including lunch, is NOK 650.
The second excursion will be on Monday 15 May by chartered coach to Horten, Tønsberg, Sandefjord and Larvik. We will enjoy lunch at the Hotel Atlantic in Sandefjord. The number on this outing will be limited to the maximum capacity of the coach, 67. The cost of this excursion, including lunch, is NOK 650.
Some may wish to undertake a third excursion. In this instance attendees will have to make their own arrangements. The excursion could comprise two separate parts: Oslo to Bergen by rail with perhaps an overnight stop in Finse which has strong polar connections. And then a coastal cruise from Bergen to Tromsø (or beyond), which also has strong polar connections. (I've already booked this for myself and Shane Murphy, another attendee. We'll leave Oslo on National Day—17 May—and break our rail journey at Finse. The next day we'll head to Bergen and then, on Friday, 19 May, we board the Hurtigruten ship MS Nordlys at 10:30pm and head off to Trømso where we'll disembark. A night in Trømso, then a flight back to Oslo. Come and join us!)
By the way, if you want to know more about the Oslo-Bergen railine have a look at this NSB (Norwegian State Railways) youtube video. Want even more? You can follow the entire line from Bergen to Oslo. It takes over seven hours. Finse is at about 2 hours and 29 minutes into the journey. Displays/Exhibits: Some of the booksellers and publishers attending the first two SouthPole-siums set up modest stalls of books for sale. And attendees were invited to bring duplicates for sale or trade. We will do the same in Oslo. Tables will be provided if needed. A separate lockable room at the Fram Museum—the Conference Room in the Gjøa Building—will be made available for this. At the past gatherings the Book Room has turned out to be a hive of conversation and socialability. As there is a ceiling projector and screen in the room we might run Antarctic movies here as well.
Those wishing to bring art, photographs, etc., (theirs or others) for display and/or sale are encouraged to do so. But let us know ahead of time so that space can be made available. Auction: An Antarctic book and artifact auction will be held but it will depend on attendees and others bringing things to add to the sale. It was great fun last time in Scotland. Items may be donated by attendees with the proceeds going to support the costs of the SouthPole-sium, or a 50-50 split with the donor.
Some of those items that will be auctioned are shown here. Dress: The SouthPole-sium will be informal so no need to pack jackets or party dresses, unless you want to. That said, some may wish to be a little dressier for the Banquet aboard the Fram. AV, etc.: Computers, projectors and a sound system will be available during the day-time sessions and at the events in the Fram Museum and the Norwegian Maritime Museum. Presentation Files: Any attendee who plans to project anything on a screen (PowerPoint, Keynote, images, etc.) should, if possible, get the file(s) to Robert Stephenson prior to the gathering. This should minimize glitches. If you are bringing your own laptop be certain that you have the correct connectors and dongles. If you bring files on a CD, DVD, or thumbdrive, make certain that they can be accessed and shown on a Macintosh Air with the most up-to-date system. We will have a Windows laptop available as well. WiFi: The Fram Museum will have WiFi available. Accommodation: Links to local accommodation may be found here. The Park Inn is offering special rates and some have already made bookings there.
In Jaffrey many attendees stayed with local families. This worked out well and both the hosts and the hosted seemed pleased. There may be an opportunity to do this in Oslo with some of the Norwegian attendees offering to accommodate overseas attendees. Any takers either way? Website: A portion of the antarctic-circle website is devoted to the SouthPole-sium, the schedule, the names of the registrants, details on accommodation, etc. If you are reading this now, you're probably on the website. Facebook: Yes, we've succumbed. We have a Facebook page on which we'll be posting news from time-to-time (but not every hour or day). Moderated Sessions: At the first SouthPole-sium, a moderated session kind of materialized on its own. David Stam was the one who got it going. The focus: "What to do with your collection when you're on the way out?" Give it to an institution? Sell it? Consign it to auction? And so on. We had some spirited discussion.
What moderated sessions might work this time around? The state of Antarctic book collecting today? Books yet to be written? Works-in-progress? Norway in the Antarctic? Have a look at Subject Ideas for Talks that might be Presented and Subjects of Talks proposed to be Presented so Far. What do you think? Book Launch(es): One or more books will be launched (or otherwise presented) at the SouthPole-sium with the author(s) talking briefly about their work and selling/signing copies. Let us know if you have a book to launch or highlight. (We already have a few.)
Proceedings: A summary of the weekend will be put on the antarctic-circle website, including the names of attendees, photographs, video. Individual participants may submit summaries of their remarks on appropriate subjects, whether presented or not, which will be put on the site as well. There will be no printed proceedings. Keepsakes: Several Keepsakes are being prepared which attendees will receive in their conference packets: The Expedition to the South Pole by Roald Amundsen, Norway and the Antarctic and Some 'Heroic Age' Verses. CONTESTS—Valuable prizes for the winners! Must be attending to submit. How are we going to judge the entries? Each attendee will have in their Conference Pack five labelled ballots: HAIKU, LIMERICK, FICTION, MEMOIRS, PENGUIN. There will be a ballot box in the Book Room in the Gjøa Building. All the entries will be on display or you can go online to see them. Deadline for submissions: 2 pm, Saturday, 13 May.
Haiku Contest: Have you ever come upon an Antarctic haiku? Give it a try. [Haiku = Japanese poem of seventeen syllables, in three lines of five, seven, and five, traditionally evoking images of the natural world.] All entries will go on the website. Those submitted at the first SouthPole-sium were pretty dreadful; second SouthPole-sium, better. Start sending them in anytime. Entries Received so far.
What the heck. Let's have a … Limerick Contest: too. Bawdy or otherwise. Entries Received so far. Fiction Contest: Write up to 600 words answering this question: Amundsen sat on the sledge at the South Pole and wrote up a letter to leave in the tent for Captain Scott to find, if he ever made it that far. He signed his name, then paused and thought a bit. After reflection, he scrunched up the letter and began again. What did that first letter say? Serious. Comical. Whatever. Entries Received so far. Six Word Memoirs: NEW! Do something with an Antarctic theme in six words. (See http://writing.upenn.edu/wh/archival/documents/sixwords/). Entries Received so far. Penguin Contest: Produce anything about a penguin or penguins. Cartoon, joke, poem, one-page short story. Entries Received so far. Favorite Photos: Pick up to three of your favorite or most interesting Antarctic and/or book photos and we'll project them for your explanation and comment. E-mail the images ahead of time. Entries Received so far. Scavenger Hunt: Something will be hidden somewhere in the Fram Museum. Find it and it's yours. Watch this space for clues! The Banquet Quiz: The subject will be Norway and the Antarctic. Groups of 6 will compete against one another. (There will be 11 easy questions and one excruiatingly difficult one.)
Access to the venue: The Fram Museum is across the harbor from central Oslo. It can be easily reached by bus or ferry. For details click here. Weather & Clothing: Torill Flyen, who will be attending the SouthPole-sium, tells me that "Oslo can be somewhat warm if you are lucky—but not usually shorts and t-shirt weather that time of the year. Bring a raincoat or water/wind proof shell jacket for sure."
Benedicte at the Fram Museum says "May as every other month in Norway could bring any weather and temperature. It is hard to tell this early…Sometimes a t-shirt is enough, other times it is raining and/or windy and cold."
I guess this means be prepared for anything!
For extensive weather information go to the Norwegian Meterological Institute website. Things to do Before, During & After: There are many things to do and see in Oslo. There are also many sites/sights that have an Antarctic connection of some sort.
Some might decide to take the Bergenbanen to Bergen via Finse and continue on up the Norwegian coast by boat. (See above under "Optional Excursions.") And click here for more details. Questions or Comments Call us at 603-532-POLE (7653) or e-mail: antarctic-circle@comcast.net [Note: From time-to-time correspondents, particularly in Europe and Australia, find their e-mails are bounced back by Comcast. If this happens, try this alternative e-address: rob@rs41.org


---