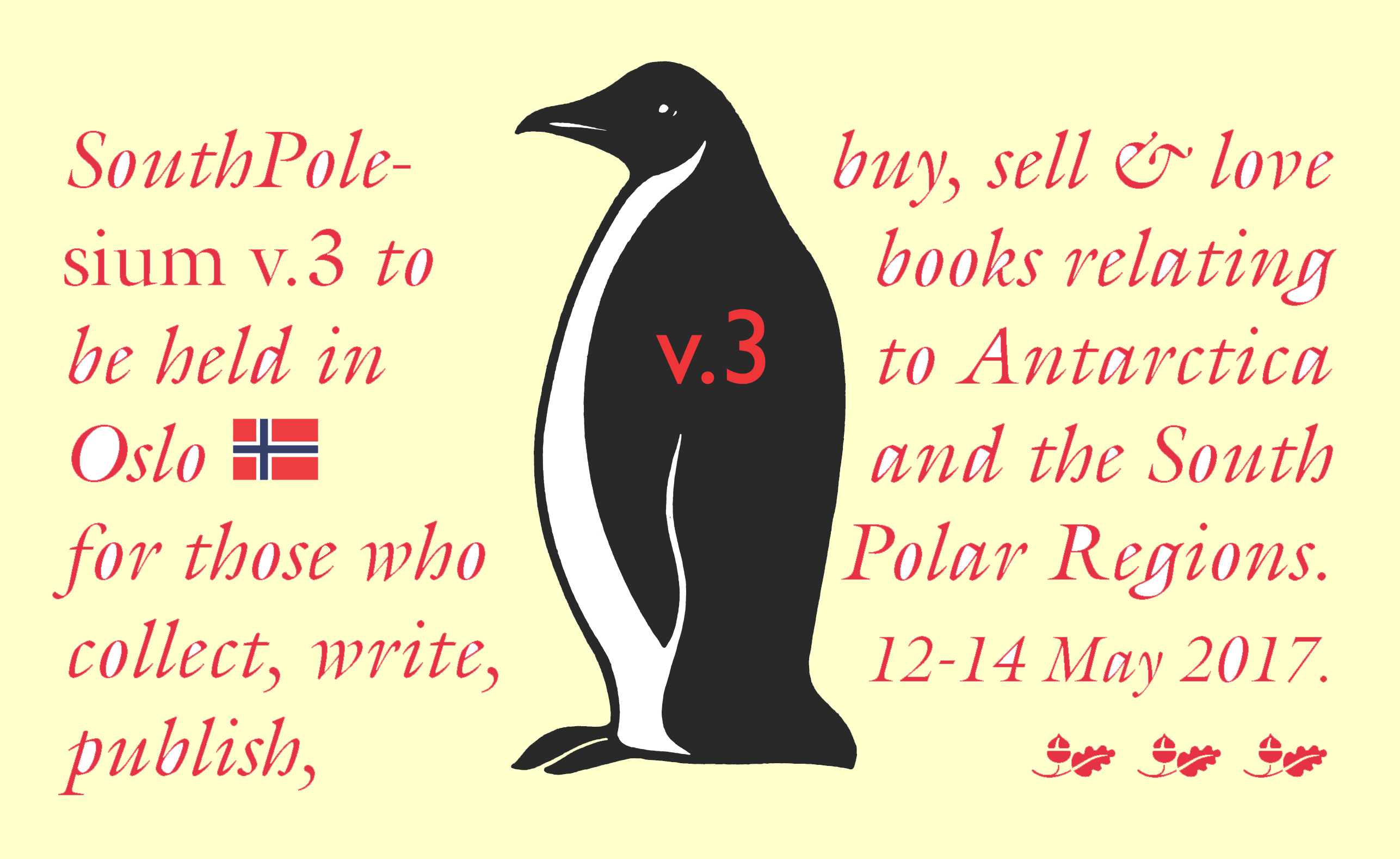 Sponsors: The Antarctic Circle and The Fram Museum
Co-Sponsors:
---
Home
Principles of the SouthPole-sium
Schedule/Agenda
Registration information and Form
Those who have registered
Those who are planning to attend, have expressed interest in doing so or are unable to
Subjects of talks proposed to be presented so far
Subject ideas for talks that might be presented
Oslo & Norway
Fram Museum & Norwegian Maritime Museum, our venues
Accommodation options
Optional Excursion to Uranienborg
Optional Excursion to Horten, Tønsberg, Sandefjord and Larvik
Optional Excursions: Oslo-Bergen via Finse and Coastal Cruise: Bergen to Tromsø
Auction
Contests
Updates & E-mails
Blog/Comments

---
BLOG & COMMENTS
Some selected comments—some edited—from incoming e-mails:
From Olav Hegler, Norway:
In Sandefjord (5 minutes walk from the whaling museum) there is a Harbour Chapel, with metal plates with the names of all Norwegian Whalers who died in the South. It might be interesting to visit the chapel.

May 17th is the Norwegian National Day. It is celebrated with nearly all the pupils in Oslo forming a VERY long procession walking up the Carl Johan Street (the main street) to greet the king and his family. Maybe those from away should stay in Oslo until the 18th of May.

About myself: I am 67 years old, retired, live 20 km. from the FRAM museum, and have less than 50 books related to Antartica (and a similar number of books related to Artic). I am a member (and former secretary) of ØYAS VENNER (Friends of South Georgia Island—http://www.oyasvenner.org/). The members are ex-whalers, relatives of ex-whalers, and people (like myself) that for some reason are interested in the Antarctic. Together with members I visited the Falkland Islands and South Georgia in 1999. In 2013/14 we were 140 members that visited the Falklands, South Georgia, Elephant Island and Deception Island With FRAM (not the ship in the museum, but a modern cruise ship from Hurtigruten, the same company that sails from Bergen to Kirkenes).



---


From Fred Goldberg, Swedish Polar Institute:
If it is of interest I can give a lecture about the first Swedish Antarctic Expedition 1901-1904 led by Dr Otto Nordenskjöld (Nephew of Adolf Erik Nordenskiöld, who circumnavigated the Eurasian continent with the ship Vega 1878-1880). As you perhaps already know it was a very dramatic expedition where C A Larsen was Captain of S/S Antarctic, which was crushed by the ice and sank. To make it a meaningful lecture I need 45 min. I have in my archive almost all of the original photographs and the photo book where all taken photographs are registered. I also have several original diaries from expedition members. Right now I am helping the Argentine Antarctic Instititute to set up an exhibit about the expedition in a museum in Buenos Aires to open in September. I am also able to give a lecture with the title "Antarctic Mail when ships were made of wood and men of steel". 30 min. The lecture will give an overview of mail to and from Antarctic expeditions from 1898 to 1913 covering Gerlache, Nordenskjöld, Drygalski, Scott, Shackleton, Filchner and Amundsen expeditions. I look forward to hearing from you in due course and wish you good luck with the planning of this interesting symposium (Greek for drinking party). Warm Polar greetings.

Note: Sadly, Fred Goldberg died near the end of 2016.



---


From Gretchen Legler, University of Maine Farmington:
I am likely to come, and I would very much like to do a short presentation. I went to the Ice as a NSF Fellow in 1998. The book that came out of that sojourn is On the Ice: An Intimate Portrait of Life At McMurdo Station Antarctica. I presented since then at an Antarctic Studies symposium in Tasmania on 'Women's Writing from Antarctica'. I would like to do a short presentation on that subject.



---


From Anne-Cathrine Flyen Norwegian Institute of Cultural Heritage Research:
My mother, Kari Flyen, just made me aware of this symposium, as she forwarded your e-mail. And my response is: I'll definitely like to be there! I am working as a researcher at the Norwegian Institute of Cultural Heritage Research, and one of my research tasks is cultural heritage sites at Svalbard and vulnerability to human use. This is also a relevant research task related to all polar regions. I am also the great-great-granddaughter of C A Larsen on my mother and grandmother's side, and I am currently writing an article discussing C A Larsen and his role as whale hunting pioneer and researcher in the polar regions.
---