Some odds 'n ends in New York City--American Museum of Natural History.
---
Episode: 44. Site Number: 079. Date Posted: 4 May 1997. Update 13 March 2000. Location: Central Park West, New York, NY, USA. Type: Museum.
---
A couple of months ago I re-visited New York's American Museum of Natural History, unwisely picking a school holiday to do so and consequently being surrounded by over-eager children. I knew there were penguins in the Museum and a display associated with Lincoln Ellsworth. I found the penguins on the second floor in the "Birds of the World" section: a diorama depicting a South Georgia scene with a full complement of King Penguins, skuas and petrals.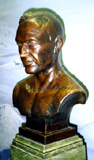 Down on the first floor, close to the West 77th Street entrance and the main Museum Shop is a small alcove devoted to Lincoln Ellsworth's arctic and antarctic endeavors. Could its existence perhaps have a connection to the fact that Ellsworth was a trustee of the Museum?
Among the items on display (not exclusively Antarctic related): A bronze bust of Ellsworth by Sally Clark (the same as at the Explorers Club, see Episode 43); a radio and hand generator, two chronometers, binoculars, an ice axe, and two snow shoes; an exhaust pipe fragment and a thermometer from the Polar Star; a model of the Wyatt Earp; two sledges and skis from Snow Hill left by Nordenskjöld in 1903; a medal awarded to Ellsworth by Congress: "for claiming in Antarctica on behalf of the United States the last uncharted territory in the world;" 10 or 12 additional medals awarded to Ellsworth; a "Polar Legion" scroll (1926) signed by Amundsen, Byrd and Ellsworth; a chronometer Amundsen carried through the Northwest Passage and to the South Pole; Ellsworth's log of his Trans-Antarctic flight; and my personal favorite, an
enameled mug and spoon from the Fram, used by Amundsen on his dash to the South Pole and later by Ellsworth on the Norge.
---