Some recently visited English sites, Part III: An Edward Wilson treasure-trove in Cheltenham.
---
Episode: 59. Site Number: 022. Date Posted: 21 March 1998. Location: Cheltenham, Gloucestershire, UK. Type: Museum.
---
The Cheltenham Art Gallery & Museum (Clarence Street, Cheltenham GL50 3JT, Glous, UK) is one of my favorite museums: a delightful, eclectic and unpretentious mixture of local history, art and what can loosely be described as "cultural resources." I've visited it several times, most recently near the end of January, 1998. Although it's pleasant to wander through the many small galleries, in time I always gravitate to the Edward Wilson Room on the third floor (second in the UK). Wilson was born in Cheltenham--the house still stands--and there's a fine bronze statue of him on The Promenade sculpted by Lady Scott, both mentioned in Episode 13.
Among the Museum's many interesting objects and artifacts on display with a Wilson connection: From theDiscovery Expedition: a Royal Doulton plate, 3 tallow candles, an ice axe, snowshoes and boots, a sledge and a mess plate; and a pair of fur-lined slippers (5-pointed star design; see photo). Also, navigating dividers and a bodkin; a clock mounted on wood from rudder of the Discovery; 2 Wilson letters; a set of fur clothing on a manikin; a pair of skis and one pole; crampons used on both expeditions; a tin cup (with Wilson's initials); a knife in a fur scabbard; a box of Winsor & Newton fixatives and a bottle of black paint; several geological specimens; 3 stuffed Adélié penguins and a stuffed albatross.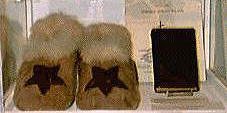 My two favorites: Being a beekeeper I covet the jar of honey used on theTerra Nova expedition. And who wouldn't be drawn to the prayer book (see photo) from which, on the 12th November 1912, surgeon Edward Atkinson read the service for Scott, Wilson and Bowers beside that tent 11 miles from One Ton Depot.
Setting off many of these is a painted backdrop by Tricia Murray showingDiscovery in her 1904 Winter Quarters at Hut Point. Also on display are some photographs (Ponting) and text panels. I'm told by the curator, Steven Blake, that the Museum also has a number of things associated with Wilson not on display.
---