A Byrd item at Loon Mountain, New Hampshire.
---
Episode: 2. Site Numbers: 040, 083. Date Posted: 6 April 1996. Revised 8 November 1998. Update 10 March 2000. Location: Mountain Club, Loon Mountain, Lincoln, New Hampshire, USA. Type: Artifact.
---
The Mountain Club (040) is a hotel at Loon Mountain in Lincoln, New Hampshire. I was there in 1993 for a conference and came upon a display case in the lobby that featured various memorabilia associated with Sherman Adams, President Eisenhower's chief of staff; Adams was involved in some way with the development of this ski area. Next to a sterling silver lunch box and thermos (which apparently Adams took daily to the White House!) is a small American flag. The caption notes, in part, that the flag was carried by Richard E. Byrd to the north and south poles and was given to Sherman Adams on November 12, 1954. A letter from Byrd reads:
"Boston, Massachusetts November 12, 1954. Dear Sherm, I am happy to present you this American flag which I carried with me over the North Pole in 1926; over the Atlantic Ocean on a non-stop flight from New York to France in 1927; and on the following Antarctic expeditions: 1928-30, 1933-35, 1939-41, 1946-47. This flag was also with me on our flight over the South Pole in 1929 and on all of my many major flights of exploration. It was also with me when a combination of unforeseen circumstances forced me to spend the winter night alone at scientific duties in the shadow of the South Pole. With this flag go my friendliest good wishes and my gratitude to you for what you have done for your country and for our chosen leader. I happen to know that quietly and utterly unselfishly you have borne on your broad shoulders a large part of the workload of vast labor that has been necessary to turn this nation away from its downward course towards socialism and to turn also the dangerous world course, temporarily at least, away from warŠa workload that would have crushed most men. Sincerely, Dick Byrd."
These small flags are not uncommon. Byrd must have had a good supply of them. I have friends in Cambridge, Massachusetts, who have one framed on their wall. The Tamworth Historical Society (083) (New Hampshire) has one on display with an accompanying letter that reads: "My dear John Finley, I am happy to present to you this American flag I carried for you on our flight to the South Pole. With high admiration and regard, Your friend, Dick Byrd Dec 30, 1930."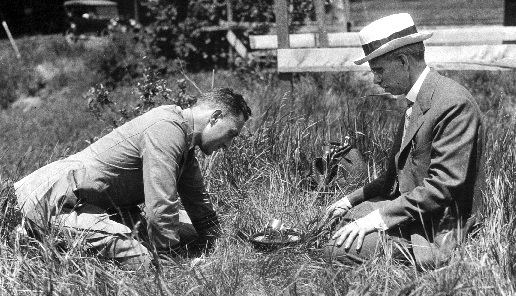 Update: Recently I obtained a similar flag and accompanying letter from a nearby consignment shop. It was presented to Albert Bumstead who turns out to be a very interesting person. Born in Boston, he lived most of his life in Washington, DC, where he became the Chief Cartographer of the National Geographic Society (in fact, he created the cartography department and was apparently the person who came up with the acorn and orange/yellow cover design for the magazine). He was trained as a surveyor and was an inventor as well. His connection to Byrd had to do with the solar compass. The story goes that Byrd and Bumstead were having lunch at the Cosmos Club in Washington and Byrd was ruminating about how he couldn't figure out how he was going to navigate during his North Pole flight. Bumstead asked Byrd why he didn't consider using a sun compass. Byrd responded, "what's a sun compass?" "I'll make you one," said Bumstead said. And did. The photograph included here shows Byrd and Bumstead sitting in a field inspecting the sun compass. By the way, The Ohio State University Archives has a Byrd sun compass in its collections. Perhaps it's the same one.
---