ANTARCTIC TRADE CARDS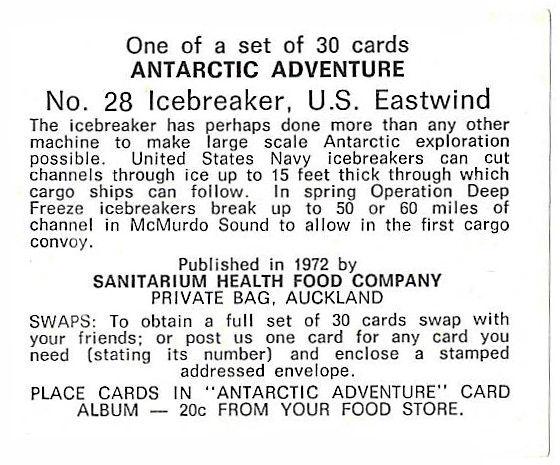 ---
No 314. Icebreaker U.S. Eastwind, issued by New Zealand's Sanitarium Health Food Co. in a series on 30 in 1972. Size: circa 2.875" x 2.25"
Recto: New Zealander with dog sledge team in foreground, U.S. icebreaker behind them.
Verso: One of a set of 30 cards
ANTARCTIC ADVENTURE
No. 28 Icebreaker, U.S. Eastwind
The icebreaker has perhaps done more than any other machine to make large scale AntarcHc exploration possible. United States Navy icebreakers can cut channels through ice up to 15 feet thick through which cargo ships can follow. In spring Operation Deep Freeze icebreakers break up to 50 or 60 miles of channel in McMurdo Sound to allow in the first cargo convoy.
Published in 1972 by
SANITARIUM HEALTH FOOD COMPANY
Private Bag, Auckland
SWAPS: To obtain a full set of 30 cards swap with your friends or post us one card for any card you need (stating its number) and enclose a stamped addressed envelope.
PLACE CARDS IN "ANTARCTIC ADVENTURE" CARD ALBUM -- 20c FROM YOUR FOOD STORE.
Source: Peter Spielmann.
---