ANTARCTIC TRADE CARDS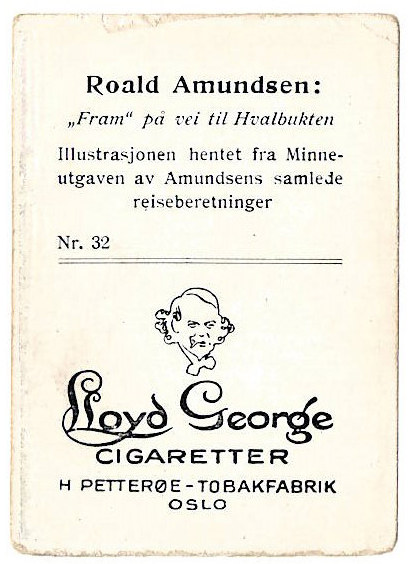 ---
No 313. 'Fram/Roald Amundsen cigarette card from Lloyd George Cigarettes of Oslo, circa 1926?. Size: circa 2" x 2.75"
Recto: Black-and-white photo of Fram, from bow to stern.
Verso: Roald Amundsen:
"Fram" pa vei til Hvalbukten
Illustrasjonen hentet fra Minne-
utgaven av Amundsens samlede
reiseberetninger
Nr. 32
[double rule]
[caricature of Lloyd George]
Lloyd George Cigaretter H Petterøe - Tobakfabrik
Oslo
Source: Peter Spielmann.
---