ANTARCTIC TRADE CARDS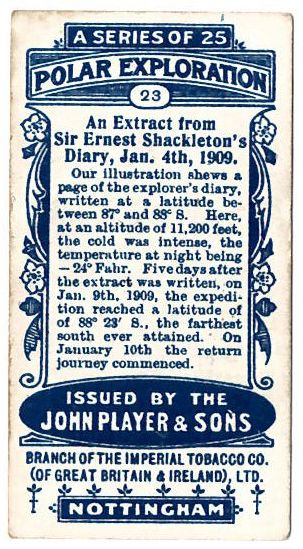 ---
No 311. Sir Ernest Shackleton, Player's Polar Series 1, issued in 1915, No. 23 of 25. Size:circa 1.4" x 2.6"
Recto: Players Cigarettes
Extract from Shackleton's Diary, Jan. 4th, 1909.
Verso: A Series of 25
Polar Exploration
23
An Extract from Sir Ernest Shackleton's Diary, Jan. 4th, 1909.
Our illustrations shews [sic] a page of the explorer's diary, written at a latitude between 87° and 88° S. Here, at an altitude of 11,200 feet, the cold was intense, the temperature at night being -24° Fahr. Five days after the extract was written, on Jan. 9th, 1909, the expediion reached a latitude of 88° 23' S., the farthest south ever attained. On January 10th the return journey commenced.
Issued by the
John Player & Sons
Branch of the Imperial Tobacco Co.
(of Great Britain & Ireland), Ltd.
NOTTINGHAM
Source: Peter Spielmann.
---