ANTARCTIC TRADE CARDS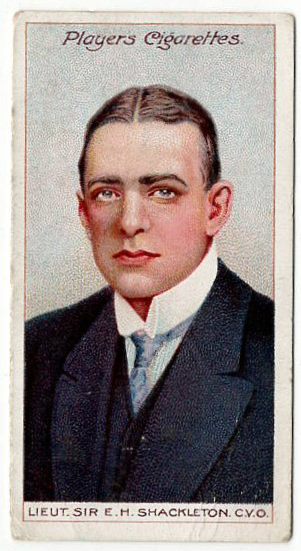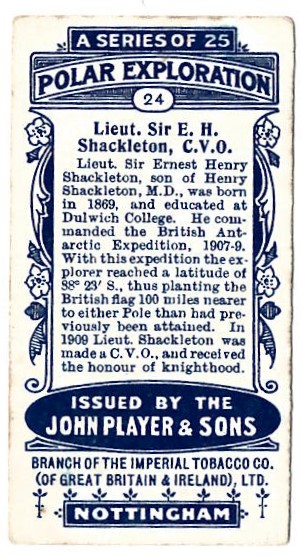 ---
No 310. Sir Ernest Shackleton, Player's Polar Series 1, issued in 1915, No. 24 of 25. Size: circa 1.4" x 2.6"
Recto: Formal suit portrait of young Shackleton
Players Cigarettes
Lieut. Sir E.H. Shackleton C.V.O.
Verso: A Series of 25
Polar Exploration
24
Lieut. Sir E.H.
Shackleton, C.V.O.
Lieut. Sir Ernest Henry Shackleton, son of Henry Shackleton, M.D., was born in 1869, and educated at Dulwich College. He commanded the British Antarctic Expedition, 1907-9. With this expedition the explorer reached a latitude of 88° 23' S., thus planting the British flag 100 miles nearer to either Pole than had previously been attained. In 1909 Lieut. Shackleton was made a C.V.O., and received the honour of knighthood.
Issued by the
John Player & Sons
Branch of the Imperial Tobacco Co.
(of Great Britain & Ireland), Ltd.
NOTTINGHAM
Source: Peter Spielmann.
---