ANTARCTIC TRADE CARDS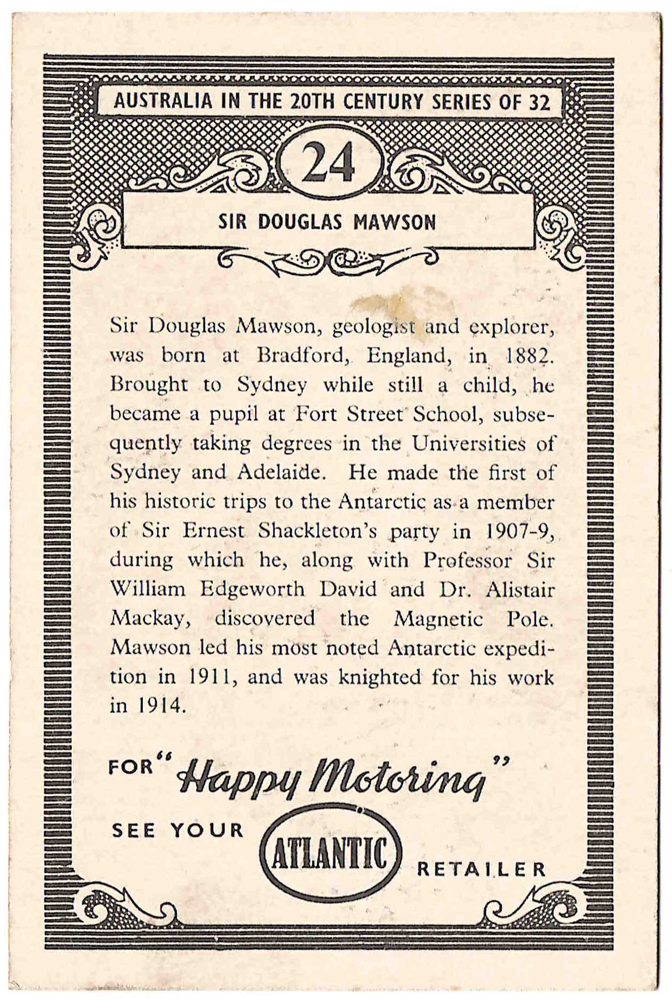 ---
No 304. Douglas Mawson issued by Atlantic gasoline in 1958. No. 24 in the "Australia in the 20th Century Series of 32." Size: circa 2" x 3"
Recto: Young blond full-haired Mawson portrait, text: Sir Douglas Mawson -- Atlantic Picture Pageant. Rhys Williams" (artist)
Verso: Australia in the 20th Century Series of 32
24
Sir Douglas Mawson
Sir Douglas Mawson, geologist and explorer, was born at Bradford, England, in 1882. Brought to Sydney while still a child, he became a pupil at Fort Street School, subsequently taking degrees in the Universities of Sydney and Adelaide. He made the first of his historic trips to the Antarctic as a member of Sir Ernest Shackleton's party in 1907-9, during which he, along with Professor Sir William Edgeworth David and Dr. Alistair Mackay, discovered the Magnetic Pole. Mawson led his most noted Antarctic expedition in 1911, and was knighted for his work in 1914.
For "Happy Motoring"
See your Atlantic retailer
Source: Peter Spielmann.
---