ANTARCTIC TRADE CARDS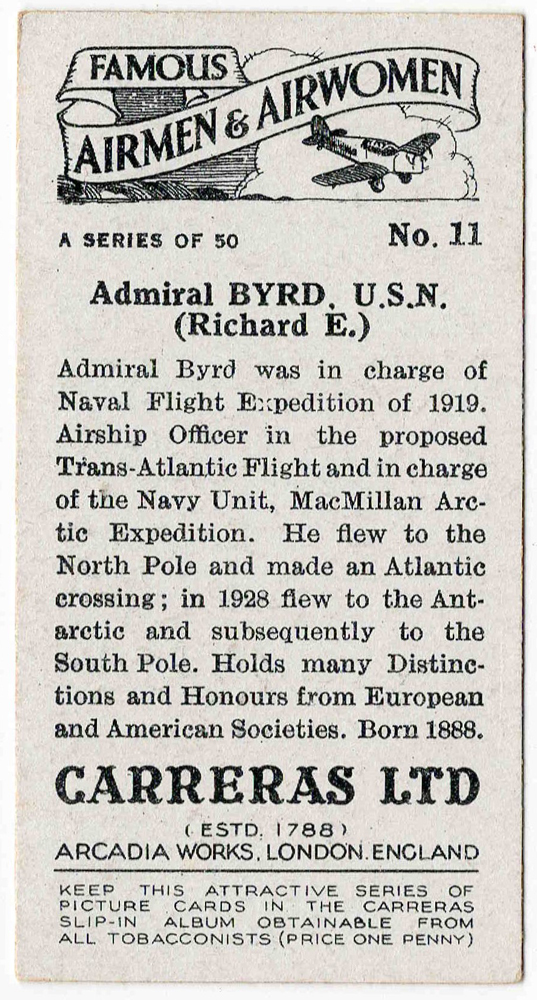 ---
Famous Airmen & Airwoman -- Admiral BYRD, U.S.N. (Richard E.) Carerras cigarette card number 11 in a series of 50; date unknown (1930s?) Size: circa 1.75" x 2.75"
Recto: Portrait of Byrd next to Red Curtis Wright biplane against icy mountain background.
Verso: Famous Airmen & Airwomen, A Series of 50, No. 11 Admiral BYRD, U.S.N. (Richard E.)
Admiral Byrd was in charge of Naval Flight Expedition of 1919. Airship Officer in the proposed Trans-Atlantic Flight and in charge of the Navy Unit, MacMillan Arctic Expedition. He flew to the North Pole and made an Atlanitc crossing; in 1928 flew to the Antarctic and subsequently to the South Pole. Holds many Distinctions and Honours from European and American Societies. Born 1888.
CARRERAS LTD
(Est. 1788)
Arcadia Works, London England
Keep this attractive series of picture cards in the Carreras slip-in album obtainable from all tobacconists (price one penny)
Source: Peter Spielmann.
---