ANTARCTIC TRADE CARDS - Originally Series 3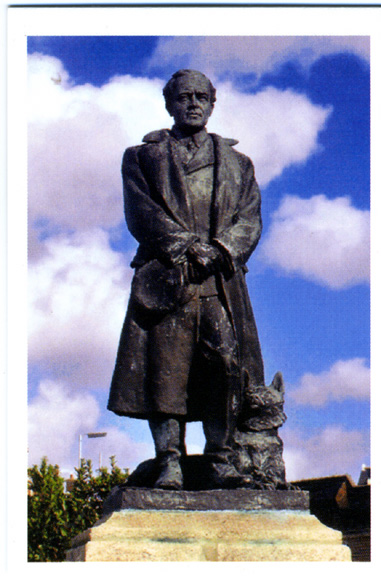 ---
Captain Robert Falcon Scott.
---

118. CAPT. ROBERT FALCON SCOTT. Issued by Magpie Publications. (March 2007). Card number 30 of a set of unknown number entitled "Readers Choice 2". Size: Ca. 3" x 2".
Recto: Photogaph of the Scott statue at Portsmouth.
Verso: READERS CHOICE 2 | 30. Capt. Robert Falcon Scott, | Portsmouth Dockyards | This Statue of the tragic Antarctic explorer is inside the main entrance to the historic Dockyards at Portsmouth. The dog at his feet is his favourite terrier Scamp, who went south with Scott on the 'Discovery' expedition in 1901, but not on the ill-fated Terra Nova expedition of January 1912. On the former, Scott and his team got to within 450 miles of the South Pole before turning back. On the latter they reached the Pole to discover Amundsen had beaten them to it. Scott and his companions died just 11 miles from their emergency supplies.
Photo: Evan Jones, Warminster | MAGPIE PUBLICATIONS | Ormskirk, Lancs. L39 5DL | Tel: 01695 423470 | Card Times | Mar 07
Note: Image and information courtesy of Evan Jones, Wiltshire, England (who took the photograph).




---
---