ANTARCTIC TRADE CARDS - Originally Series 2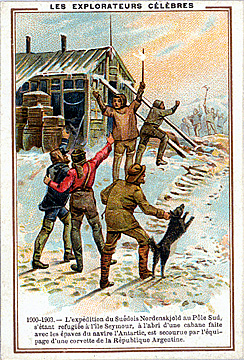 ---
Otto Nordenskjöld.
---

100. NORDENSKJOLD. Issued by C. Beriot. (Date?). Unnumbered card from a set of unknown number. Size: Ca. 4.2" x 2.8".
Recto: View of hut with men and a dog outside with rescue party (?) in distance. At the top: LES EXPLORATEURS CÉLÈBRES. At the bottom: 1900-1903.-- L'expedition du Suédois Nordenskjold au Pôle Sud, s'étant refugiee a l'ile Seymour, à l'abri d'une cabane faite avec les epaves du navire l'Antarctic, est secourue par l'equipage d'une corvette de la Republique Argentine.
Verso (Decorative): Voyage au Royaume de Lilliput | ([on the facade of a building:] Sociéte Anonyme Siège Scoaital à Osnières Seine | LA PÄTE FLAMANDE CAPITAL 1.250.000) | Souvenir de la Soceiété Anonyme La Päte Flamande
Note: Image and information courtesy of Evan Jones, Wiltshire, England.

---