ANTARCTIC TRADE CARDS - Originally Series 2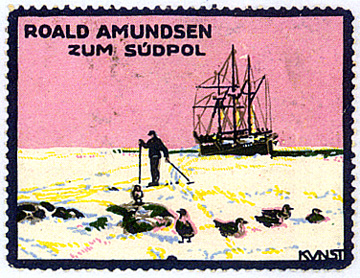 ---
Roald Amundsen zum Südpol.
---

077. ROALD AMUNDSEN ZUM SÜDPOL. Issued by J.F. Lehmann's Verlag München. (Date?). Unnumbered card from a set of unknown number. Size: Ca. 2.1" x 1.6" (perforated edge).
Recto: Fram in background with man on skis and penguins (although looking very much like ducks) in foreground. At the top left: ROALD AMUNDSEN | ZUM SÜDPOL. At the bottom right: KUNST.
Verso: Roald Amundsen | Die Eroberung des Süpols | Zwei Bände reich illustriert geb. M. 22. -- | Roald Amundsen | Die Nordwestpassage | Von der Baffinsbucht zur Beringstrasse | Reich illustriert u. schön geb. M. 10.-- | J.F. LEHMANN'S VERLAG MÜNCHEN.
Goldberg CI3.1c
Note: Image and information courtesy of Evan Jones, Wiltshire, England.

---