ANTARCTIC TRADE CARDS - Originally Series 2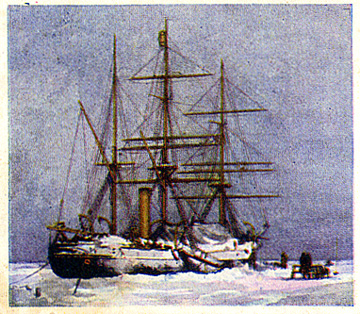 ---
The Discovery
---

073. THE "DISCOVERY". Issued by Godfrey Phillips Ltd. (1938). Card number 30 from a set of 36 entitled "Ships That Have Made History". Size: Ca. 2.35" x 2.07".
Recto: SHIPS THAT HAVE | MADE HISTORY | NO. 30 A SERIES OF 36 | THE "DISCOVERY". | The Discovery helped to unlock the gates of the Antarctic, in the exploration which Commander Scott led to the South Pole in 1901. This stout little vessel was frozen in for two winters; she was almost abandoned, but managed to free herself, and returned home in 1904. During the voyage the true position of the South Magnetic Pole was established. Scott's Discovery was the sixth of her line, and all were employed in Polar expeditions. Specially built in Dundee, this historic ship was 172 feet long, 33 feet in beam, and had a tonnage of 475-485. | THIS SURFACCE IS ADHESIVE | GODFREY PHILLIPS LTD. | AND ASSOCIATED COMPANIES
Verso:
Note: Image and information courtesy of Evan Jones, Wiltshire, England.

---