ANTARCTIC TRADE CARDS - Originally Series 2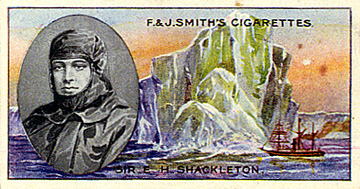 ---
Sir E. H. Shackleton.
---

068. SIR E.H. SHACKLETON. Issued F. & J. Smith's Cigarettes. (1911). Card number 48 from a set of 50 entitled "Famous Explorers." Size: Ca. 2.65" x 1.4".
Recto: View of ship (Nimrod?) beside a large iceberg, inset portrait of Shackleton in polar clothing. Top: F. & J. SMITH'S CIGARETTES. Bottom: SIR E.H. SHACKLETON.
Verso: SERIES OF 50. | No. 48 | FAMOUS EXPLORERS. | Sir E.H. Shackleton, | C.V.O. | Ernest Henry Shackleton was born at Kilkee, 1874, and educated at Dulwich College. His first experience at Antarctic travel was in 1901, when he acconipanied the National Expedition as 3rd lieutenant. Shackleton commanded the British Antarctic Expedition 1907-9, when he reached a point within 100 miles of the South Pole. | SMITH'S | GLASGLOW MIXTURE | MILD, MEDIUM & FULL | COPYRIGHT
Note: Image and information courtesy of Evan Jones, Wiltshire, England.

---