ANTARCTIC TRADE CARDS - Originally Series 2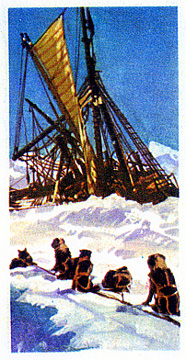 ---
Endurance Sunk by Ice.
---

065. ENDURANCE SUNK BY ICE. Issued by Brooke Bond Oxo Ltd. (1973). Card number 36 from a set of 50 entitled "Adventurers & Explorers". Size: 2.7" x 1.42".
Recto: View of Endurance being crushed, with dog team in foreground. Based on a Hurley photograph.
Verso: A SERIES OF 50 No. 36 | Written by Tim Severin | Illustrated by John Beswick | Ernest Henry Shackleton 1874-1922 | British | Illustrated: Endurance sunk by ice. | Shackleron had the rare ability of getting the very best performance out of himself and his men. In 1908-9 he and three companions man-hauled their sledges within 95 miles of the South Pole in a brilliant forced march. But his greatest journey came on his next expedition after his ship Endurance was crushed and sunk by ice. After drifting on ice floes for five months, Shackleton led his men to Elephant Island and from there made an 800-mile journey in an open boat to fetch help. | Save all your cards in the full-story | picture album--5p from grocers or from, | Brooke Bond Oxo Ltd, Leon House, | High Street, Croydon CR9 1JQ, Surrey | CARDS ISSUED WITH ALL | BROOKE BOND TEA AND TEA BAGS
Note: Image and information courtesy of Evan Jones, Wiltshire, England.

---