ANTARCTIC TRADE CARDS - Originally Series 2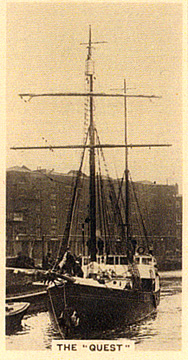 ---
The "Quest".
---

064. THE "QUEST." Issued by Carreras Ltd. (1929). It is card number 19 from a set of 25 cards entitled "Notable Ships Past & Present". Size: 2.7" x 1.42".
Recto: Photographic view of the Quest probably on the Thames in London. At bottom: The "Quest".
Verso: NOTABLE SHIPS | PAST & PRESENT. | A SERIES OF 25 REAL PHOTOGRAPHS | No. 19 | THE "QUEST." | On Saturday, September 17th, 1921, this gallant little ship left London on what proved to be Shackleton's last voyage to the Antarctic. The expedition was the outcome of the personal friendship of Mr. J. Q. Rowlett for Sir Ernest Shackleton, and was for the exploration of the coast of the Antarctic, with a view to ascertaining its limits. The venture was highly successful but at the cost of the life of the great explorer, as it was here in the cold hard regions of the Antarctic, that Shackleton gave his life for the cause of science. | CARRERAS | HIGH-CLASS CIGARETTES | ARCADIA WORKS, LONDON, ENGLAND. | ENGLAND'S LARGEST INDEPENDENT MANUFACTUERS OF | FINE QUALITY CIGARETTES | ESTABLISHED 1799? [Date is difficult to make out]
Note: Image and information courtesy of Evan Jones, Wiltshire, England.

---