ANTARCTIC TRADE CARDS - Originally Series 2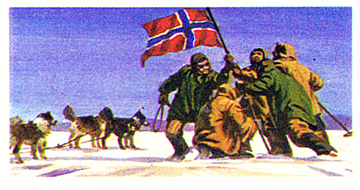 ---
Amundsen's Party at the South Pole.
---

062. AMUNDSEN'S PARTY AT THE SOUTH POLE. Issued by Brooke Bond Oxo Ltd. (1973). Card number 34 from a set of 50 entitled "Adventurers & Explorers". Size: 2.7" x 1.42".
Recto: Men planting Norwegian flag at Pole; also 3 dogs.
Verso: A SERIES OF 50 No. 34 | ADVENTURERS | & EXPLORERS | Written by Tim Severin | Illustrated by John Beswick | Roald Amundsen 1872-1928 | Norwegian | Illustrated: Amundsen's party at the | South Pole. | First to reach the South Pole and first to sail the North West Passage, Amundsen was one of the most professional explorers. In 1903-6 he sailed the 100-ton auxiliary cutter Gjöa through the North-West Passage, in places with only an inch of water below her keel. Then in 1911 using dogsleds he reached the South Pole on Decernber 14, more than a month ahead of Scott (see card 35). Turning his attention to trans-Polar flights Amundsen lost his life while on a rescue mission to help a crashed airship. | Save all your cards in the full-story | picture album--5p from grocers or from, | Brooke Bond Oxo Ltd. Leon House, | High Street, Croydon CR9 1JQ, Surrey | CARDS ISSUED WITH ALL | BROOKE BOND TEA AND TEA BAGS
Note: Image and information courtesy of Evan Jones, Wiltshire, England.

---