ANTARCTIC TRADE CARDS - Originally Series 2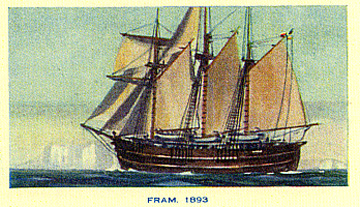 ---
Fram. 1893
---

059. FRAM. 1893. Issued by Issued by R. & J. Hill Ltd. (1940). Card number 14 from a set of 50 entitled "Famous Ships". Size: Ca. 2.5" x 1.5".
Recto: View of the Fram under full sail.
Verso: FAMOUS SHIPS | No. 14. | THE "FRAM." | The Fram was built in 1892 for Nansen's Arctic Expedition, and the gallant Iittle three-masted schooner stood up nobly to her task.
Fram is a Norwegian word meaning forward, and her description is 117-feet in length with triple external planking ranging from 24-in. to 28-in. in thickness, 402 tons, fitted with auxiliary engines, driving a screw propeller Nansen sailed in her in 1893, and in 1899 the ship was used again by Sverdrup in his explorlation of Jones Sound (Baffin Bay). In 1910 Captain RoaId Amundsen used the Fram for his expedition after she had been converted from steam to oil. | ISSUED BY R. & J. HILL LTD. | Proprietors of | HY. ARCHER & CO. | LONDON & BIRMINGHAM
Note: Image and information courtesy of Evan Jones, Wiltshire, England.

---