ANTARCTIC TRADE CARDS - Originally Series 2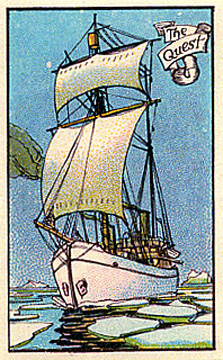 ---
The Quest.
---

055. THE QUEST. Issued by Yacht Cigarettes (Date: ?). Card number 57 from a set of 72. Size: Ca. 2.3" x 1.45".
Recto: Bow view of Quest undersail with ice floes. Upper right: The Quest.
Verso: YACHT CIGARETTES Nr. 57 | ANDEN BILLEDSERIES 1-72 | "Quest", den engeslske Polarforsker Shackletons Skib, da han forsøgte at naa Sydpolen 1921. Det lykkedes ham ikke, han døde af Overanstrengelse, men det lykkedes Skibet at komme hjem.
Note: Image and information courtesy of Evan Jones, Wiltshire, England.

---