ANTARCTIC TRADE CARDS - Originally Series 2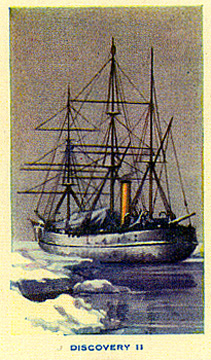 ---
Discovery II.
---

054. DISCOVERY II. Issued by R. & J. Hill Ltd. (1940). Card number 13 from a set of 50 entitled "Famous Ships". Size: Ca. 2.5" x 1.5".
Recto: View of Discovery without sails set in icy waters. At bottom: DISCOVERY II.
Verso: FAMOUS SHIPS | No. 13 | THE "DISCOVERY." | The Discovery, sixth of her line, carried Captain R. F. Scott's expedition to the Antarctic in 1901, and helped to unlock Polar secrets.
The vessel, specially built at Dundee, was 172-feet long, 33-feet in beam, and had a registered tonnage of 475-485. She was frozen in for two winters, and when almost abandoned, managed to free herself, to return home in 1904.
The first discovery made six voyages to the Arctic regions 1602-16; the second went to Hudson's Bay 1719; the third was used by Captain Cook; the fourth Vancouver used, and the fifth helped the Franklin Relief Expedition of 1875. | ISSUED BY | R. & J. HILL LTD. | Proprietors of | HY. ARCHER & CO. | LONDON & BIRMINGHAM
Note: Image and information courtesy of Evan Jones, Wiltshire, England.

---