ANTARCTIC TRADE CARDS - Originally Series 2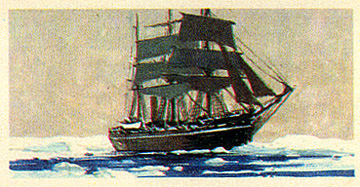 ---
The Discovery.
---

053. H.M.S. DISCOVERY. Issued by Brooke Bond Oxo Ltd. (1970, reissued in 1973 with the verso printed in black). Card number 37 from a set of 50 entitled "The Saga of Ships". Size: Ca. 2.7" x 1.42".
Recto: View of the Discovery under sail in icy waters.
Verso: A SERIES OF 50. No. 37 | The Sage of Ships | Illustrated by David Cobb | Described by George Naish | H.M.S. DISCOVERY | The Discovery lies alongside the Thames Embankment in London where she serves as a drill ship of the London Division, R.N.R. She was built in Dundee on the lines of an Arctic whaler, for the National Antarctic Expedition led by Captain Scott, R.N., towards the South Pole in 1901 to 1904, to survey the Great Ice Barrier discoverd by Ross. Her length is 200 feet, beam 34 feet, and she is of 1,600 tons. She was built to withstand ice pressure with massive timbers within her bows. To avoid damage from ice her screw lifts and there are no bilge keels. | SAVE YOUR CARDS IN AN ALBUM | Available at your grocer or from us, price 6d | Issued with all | Brooke Bond Tea and Tea Bags | Brooke Bond Oxo Ltd., Leon House, | High Street, Croydon CR9 1JQ, Surrey
Note: Image and information courtesy of Evan Jones, Wiltshire, England.

---