ANTARCTIC TRADE CARDS - Originally Series 2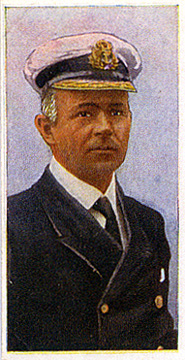 ---
Captain Robert Falcon Scott.
---

052. ROBERT FALCON SCOTT. Issued by James Pascall, Ltd. (1927). Card number 16 from a set of 24 entitled "Devon Worthies". Size: Ca. 2.15" x 1.4".
Recto: Portrait of Scott in naval uniform.
Verso: Pascall DEVON | WORTHIES | No. 16 | ROBERT FALCON SCOTT. | Sailor and Explorer. Born at Devonport, 1868. Went to sea as a boy. Became Commander 1898. Led the Antarctic Expedition 1901. Naval Assistant Sea Lord of the Admiralty until 1910 when he set out for the Antarctic regions in the "Terra Nova." Reached the Pole, January 7, 1912, died on the return journey on or about March 27th under tragic circumstances, after a valiant and prolonged struggle against blizzard, snow and ice. | FREE CASKET SWEETS AND CHOCOLATES for each complete set (1 to 24) or 100 assorted cards from packets of Ambrosia Chocolate. Write your name and address clearly and send to:-- JAMES PASCALL, LTD. Competition Dept. 100, Blackfriars Rd., London, S.E.1
Note: Image and information courtesy of Evan Jones, Wiltshire, England.

---