ANTARCTIC TRADE CARDS - Originally Series 2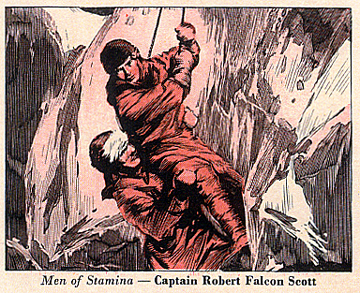 ---
Men of Stamina—Captain Robert Falcon Scott.
---

045. MEN OF STAMINA -- CAPTAIN ROBERT FALCON SCOTT. Issued by Stamina Self-supporting Trousers. (1946-1966). Card number 28 in Series 10 [16-30]. Size: Ca. 2.5" x 3.12".
Recto: View of two men in crevasse.
Verso: No. 26 CAPTAIN ROBERT FALCON SCOTT (1868-1912). In the realms of Antarctic exploration, few have shown greater courage, endurance and comradeship than this great man. His death was a triumph of the invincible spirit of man. Under the cross erected to his memory is written--"To strive, to seek, to find and not to yield." | ASK FOR STAMINA SELF-SUPPORTING TROUSERS STAMINA CLOTHES ARE TAILORED FROM CRUSADER CLOTH
Note: Image and information courtesy of Evan Jones, Wiltshire, England.

---