ANTARCTIC TRADE CARDS - Originally Series 2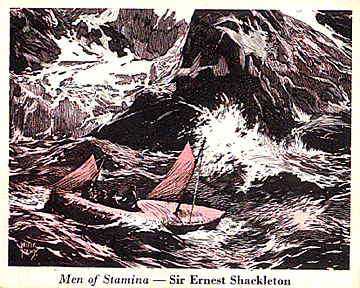 ---
Men of Stamina—Sir Ernest Shackleton.
---

043. MEN OF STAMINA -- SIR ERNEST SHACKLETON. Issued by Stamina Self-supporting Trousers. (1946-1966). Card number 28 in Series 10 [16-30]. Size: Ca. 2.5" x 3".
Recto: View of the James Caird with coast in background.
Verso: No. 28 SIR ERNEST SHACKLETON (1874-1922). | SHACKLETON'S life is the thrilling story of a great explorer, whose unconquerable spirit so inspired his fellows that he made them invincible. The epic story of stamina is surely that 16 day journey in a 23 foot boat across 750 miles of turbulent sub-Antarctic ocean, the most tempestuous ocean in the world. | Ask for STAMINA SELF-SUPPORTING TROUSERS STAMINA CLOTHES ARE TAILORED FROM CRUSADER CLOTH
Note: Image and information courtesy of Evan Jones, Wiltshire, England.

---