ANTARCTIC TRADE CARDS - Originally Series 2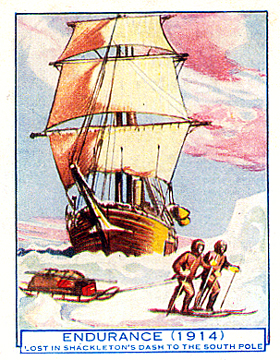 ---
Endurance (1914) lost in Shackleton's Dash to the South Pole.
---

039. ENDURANCE (1914) LOST IN SHACKLETON'S DASH TO THE SOUTH POLE. Issued by D.C. Thomson & Co. Ltd. (Date: ?). Card unnumbered; from a set of 32 entitled "Famous Ships". Size: Ca. 2.5" x 3.1".
Recto: View of Endurance beset in the ice with two men on skiis hauiling a sledge.
Verso: FAMOUS SHIPS | ENDURANCE | In 1914, soon after the beginning of the Great War, The Endurance left Britain under the command of Sir Ernest Shackleton to conquer the icy waters that fringe the South Pole.
She was well named Endurance, for she endured many a storm until her last gallant fight amidst the ice off the Caird Coast in 1915. Here she was frozen in, and our picture shows her being crushed between the ice floes. Later the pressure was released, and the ship began to sink. Then the ice floes came together again, cut off the masts and the top deck, and pushed the wreck of the Endurance under the ice of the Weddell Sea. | Presented with | THE SKIPPER
Note: Image and information courtesy of Evan Jones, Wiltshire, England.

---