ANTARCTIC TRADE CARDS - Originally Series 2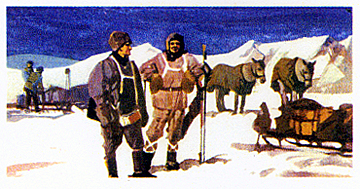 ---
Captain Robert Falcon Scott.
---

037. CAPTAIN ROBERT FALCON SCOTT. Issued by Brooke Bond Oxo Ltd. (1973). Card number 35 from a set of 50 entitled "Adventurers & Explorers". Size: Ca. 1.43" x 2.7".
Recto: View of 4 men and sledges and ponies on the ice.
Verso: A SERIES OF 50 No. 35 | ADVENTURERS | & EXPLORERS | Written by Tim Severin | Illustrated by John Beswick | Robert Falcon Scott 1963-1912 | British | Illustrated: Sledges and ponies | on the ice. | In his bid to reach the South Pole in 1911-12, Scott's expedition tried motorised sledges, Siberian dogs, and even Manchurian ponies as transport. But it was by man-hauling their equipment that Scott and four companions reached the Pole on January 17, 1912 after great difficulties, only to find that Amundsen had got there first. On the return journey Captain Oates heroically left the party because he was slowing it down, but Scott and his companions, totally exhausted, perished in a blizzard only 11 miles from a store depot. | Save all your cards in the full-story | picture album -- 5p from grocers or from, | Brooke Bond Oxo Ltd, Leon House, | High Street, Croydon CR9 1JO, Surrey | CARDS ISSUED WITH ALL | BROOKE BOND TEA AND TEA BAGS
Note: Image and information courtesy of Evan Jones, Wiltshire, England.

---