ANTARCTIC TRADE CARDS - Originally Series 1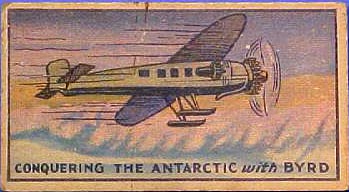 ---
Conquering the Antarctic with Byrd.
---

032. RICHARD E. BYRD. Issued by Wischmann's Picture Pack Gum (1930s). From a series of 25 entitled 'Aeroplane Series.' Size: 1.35" x 2.47".
Recto: View of the Floyd Bennett flying flying over an icy scene. At bottom: CONQUERING THE ANTARCTIC with BYRD
Verso: Richard E. Byrd led an expedition to the Antarctic in | his Ford plane called the "Floyd Bennett." With three | companions he flew over the South Pole on November | 29, 1929. | AEROPLANE SERIES | 1-25 | Packed with WISCHMANN'S | PICTURE PACK GUM | This educational card is one of a contemplated series | of 250 different kinds.
[5196]

---