ANTARCTIC TRADE CARDS - Originally Series 1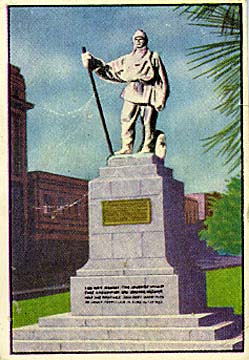 ---
Captain R. F. Scott, R.N..
---

017. CAPTAIN R. F. SCOTT, R.N. Issued by Sanitarium Health Food Company, Auckland, New Zealand (Date?). No. 351 in a ninth set of 50 cards titled "The New Zealand Treasury of the Years". Size: 2.9-" x 2".
Recto: Color painted view of Katheleen Scott statue of Scott in Christchurch, New Zealand. No title.
Verso: THE NEW ZEALAND | TREASURY OF THE YEARS | Ninth Series of 50 Cards | An attractive album is obtainable from your local grocer for 6d. (if posted 7d.) in which you can paste these beautiful cards for permanent reference. GET YOUR COPY NOW! | Cards can be obtained with the following Sanitarium Products: Weet Bix, Granose, Bixies, Puffed Wheat, Puffed Rice and San Bran. | Published by the SANITARIUM HEALTH FOOD CO. | New Zealand | 351 -- Captain R. F. Scott, R.N.
[4733]

---