ANTARCTIC TRADE CARDS - Originally Series 1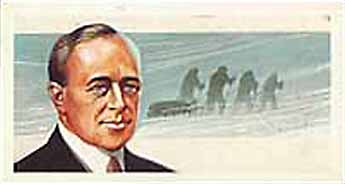 ---
Captain Robert Falcon Scott.
---

009. ROBERT F. SCOTT. Issued in the UK by Brooke Bond & Co. Ltd. (1969). It is card number 26 from a set of 50 cards entitled "Famous People." The card was given as a free premium and was inserted into a package of "Brooke Bond" tea. Size: 2.7" X 1.4".
Recto: Portrait of Scott with four men manhauling a sledge in the background.
Verso in blue ink: A Series of 50. No. 26 | FAMOUS | PEOPLE | Illustrated by Angus McBride | Described by Virginia Shankland | ROBERT FALCON SCOTT | (1868- 1912) | Scott, a naval officer and scientist, first explored Antarctica when he was in command of a successful expedition (1901-1904) in the Discovery, mapping large areas and journeying far into the interior. In 1910 he led an attempt to reach the South Pole. After a fearful struggle the expedition arrived at the Pole on January 17th, 1912, only to find that the Norwegian, Amundsen, had got there 32 days earlier. Heartbroken, they turned back. First Evans, then Oates, died. Scott, Wilson and Bowers, stopped by blizzards, died of starvation and exposure only 11 miles from a food depot.
GET A PICTURE CARD ALBUM | FROM YOUR GROCER-Price 6d | Issued with | BROOKE BOND TEA | and Tea Bags | Heathrow House, Cranford, Middx.
[4595]
---